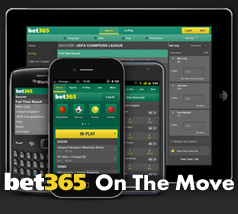 Mobile betting is the future of online sports betting.  It is already a very widely used method of placing bets online and I am convinced that it will soon become the more common method of wagering on sporting events than even betting via your computer.  The ease of mobile betting and the ability to bet when you are away from the computer makes mobile betting essential for most busy punters.
Bet365 realizes the usefulness and potential of mobile betting and they have created a very user friendly mobile website that makes it quick and easy to find lines and place bets using your mobile phone.  In order to entice bettors who may not have otherwise placed a wager though Bet365's mobile betting application, Bet365 has sweetened the pot.  They are offering a matching bonus of up to $100 on the first bet placed through your mobile device.  For example, if your first mobile bet placed at Bet365 is a $50 wager then you will also receive a $50 bonus added to your account!
Bet365  Mobile Bonus Terms
To claim your mobile bonus (Bet365 is calling it the On The Move Bonus) you simply need to place a bet of $2 or more through your mobile device or tablet.  You will then be entitled to a bonus equal to the amount of your wager, up to $100.
After you've placed your first mobile wager you will receive an email from Bet365 that will contain an Offer Code.  You will have to enter this Offer Code in the Members area of the Bet365 website in order to claim your bonus.
The bonus is subject to the regular Bet365 bonus rollover requirements, which means you must rollover the bonus 6 times before you can make a withdrawal.  You must clear these rollover requirements within 90 days of claiming the bonus.  These conditions are very easy to meet if you simply continue to bet at a normal rate throughout the next 3 months.
**It's also important to note that the Offer Code must be entered within 7 days of your first mobile bet in order to remain valid.
***You should also note that any bets placed on odds of 1.50 or lower will not count towards your rollover requirements.
Bet360's Thoughts
This is a great promotion from Bet365.  I would strongly suggest that you start placing bets through your mobile device even if this bonus didn't exist.  The convenience that mobile betting provides is reason enough to start using the mobile betting option from Bet365, but this $100 bonus definitely increases the benefits.
Some examples of when mobile betting could come in handy would be when you are at the sporting event live, at the pub watching the game with friends or simply on the couch and are too lazy to get up and go to your computer to place your wagers.
I also strongly advise you to take full advantage of this promotion by placing a bet of at least $100 for your initial mobile wager.  The bonus is a one time offer so you might as well take full advantage.

Tagged with: Bet365 • Bonus • Mobile Betting • Mobile Bonus