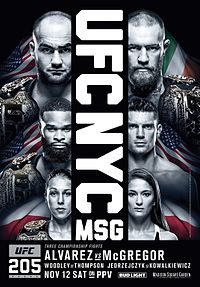 UFC 205 is headed to Madison Square Garden for the first UFC event in the state of New York and the UFC have not disappointed in putting this card together.  It's widely agreed upon that this UFC card is the best in the history of the promotion from the main event right down to the prelims.  UFC 205 is still a month away, but I wanted to get my early predictions up for the fights because there are some great betting lines right away.
All of the odds I'm using below are from Bet365.com, our top rated sportsbook.
McGregor vs Alvarez
The main event of the card is Conor McGregor moving up to Lightweight to challenge Eddie Alvarez for the belt.  McGregor is actually a pretty big favourite at this time and I expect this line to move closer to a pick'em by the event.  At these odds I think the smart money is on Eddie.  Alverez is a tough guy from Philadelphia who has only been knocked out once in his 28-4 MMA career.  He's a guy who has been in a lot of battles and will know what it takes once he gets into the Championship rounds.  If he can survive the first two rounds with McGregor the fight should tilt in his favour.
Play: Alvarez 2.30
Tyron Woodley vs Stephen Thompson
Woodley has to be one of the least likeable UFC champions in recent memory.  Luckily his title reign should be very short because Wonderboy poses a huge problem for him.  I see Wonderboy out striking Woodley from range and then finishing off the Champ after he gasses in the later rounds.
Play: Thompson 1.57
Joanna Jedrzejczyk vs Karolina Kowalkiewicz
A battle between two Polish ladies at Strawweight.  I see Karolina as the poor mans version of Joanna, which is why I don't see this fight going her way.  The champ will add another defense to her reign.
Play: Joanna 1.28
Donald Cerrone vs Kelvin Gastelum
I've learned my lesson when it comes to betting against Cerrone in non-title fights.  The guy is 11-1 in his last 12 fights and never seems to lose in non-title fights.  Gastelum is the real deal and will put up a good fight, but I like Cowboy here.
Play: Cowboy 1.57
Yoel Romero vs Chris Weidman
I don't think Weidman is as good as he's given credit for.  He was thoroughly outmatched when he dropped the title to Luke Rockhold and even in his title reign he only beat washed up Brazilians (Silva, Machida, Belfort) who have each not done much since their title chances.  Weidman is 0-1 against the top guys in the division at the moment and I think Romero could surprise Weidman and really show him he needs to add some more layers to his game if he hopes to continue to be an elite Middleweight.
Play: Romero 2.40
Frankie Edgar vs Jeremy Stephens
Frankie should have no trouble with Jeremy Stephens, which will add injury to the insults that Stephens was hit with by Conor McGregor at the UFC 205 press conference.  Stephens is a power puncher, so he does have a punchers chance, but Edgar has never been finished in his entire MMA career.
Play: Edgar 1.30
Miesha Tate vs Raquel Pennington
This is a fight between two very tough girls who rely on their toughness and smarts to beat girls who may be more athletic.  I really see this fight going either way, which is why my money is on Pennington.  I just think Miesha is overrated thanks to her name and the fact that she held the belt for a short time.
Play: Pennington 2.50
That's it for now, I'll check back in a months time to see how these UFC 205 betting picks panned out.
Tagged with: UFC 205 • UFC betting