The majority of sports around the world are currently shut down due to COVID-19. This means there is plenty of time to look at futures odds and with all of the transaction in the NFL of late, I thought it was a great time to look at the Super Bowl LV outright winner odds and give you guys a couple picks I like.
Super Bowl LV Odds
Here are the odds from BetOnline.ag, which is the top rated betting site for Americans according to SportsBetListings.com.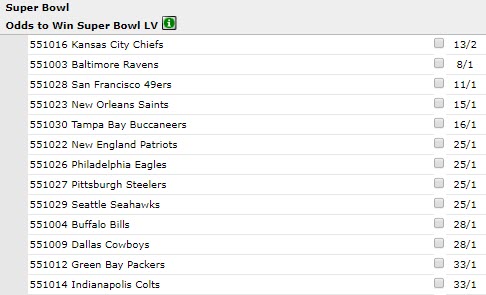 These are some of the best odds I've seen online from top to bottom. That said, I still suggest comparing the odds with Bet365.com before placing your bet.
My Pick
I think the Chiefs, Ravens, 49ers and Saints are still the best four teams in the league, so I cannot see any fault in their odds. That said, I'm not sure I see a ton of value in any of those odds. The Chiefs at 13/2 to repeat is probably my favourite play among those four favourites, but I prefer to look for longer odds when picking my Super Bowl winners.
The first odds that caught my eye was the Patriots at 25/1. Yes, the Pats just lost Tom Brady, but I'm of the belief that his best days are behind him. Bill Belichick obviously chose to move on from Brady and I think he may have some aces up his sleeve in terms of who will fill that QB position, and how he intends to improve his offense this year.
Let's not forget that the Pats are still in the very weak AFC East. The Jets and Dolphins will likely be non-factors again (although the Jets may improve with a full season from Darnold) and I can't expect the Bills to take over the division from the Pats. So the Pats have a great shot at once again winning the AFC East and at least having home field advantage in the wild card round (and potentially a first round bye). Just based on the likelihood of that outcome I think the 25/1 is a value play. And then add in the fact Belichick is the best coach in the league and I think these odds are far too long. I believe that Belichick will be able to find a way to win games with this team and they will never be a big underdog, even in the playoffs.
Play: Patriots 25/1
I also like the Packers at 33/1. Aaron Rodgers is still one of the top QB's in the league and I think the Packers will increase the distance between them and the Vikings this year, which should result in a NFC North win. At 33/1 there is definitely value in this team as well.
Play: Packers 33/1
Tagged With : Super Bowl 2021 • Super Bowl betting • Super Bowl LV