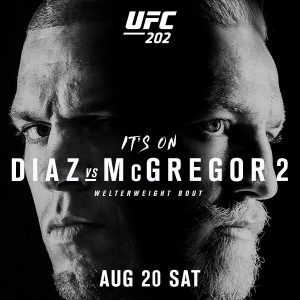 The rematch is here.  Conor McGregor vs Nate Diaz 2 is finally here after months and months of build up.  It was said in the Bad Blood preview that the first fight between these two at UFC 196 was the biggest selling PPV of all time.  That goes against what some reports say, but it confirms what McGregor has been saying since the fight.  It will be interesting to see if this rematch surpasses those numbers.
On top of the huge McGregor vs Diaz main event there's also some other huge fights including a probable title eliminator fight between Anthony Johnson and Glover Teixeira in a division that's very stagnant at the moment.  On top of that fight we also get treated to Cowboy Cerrone vs Rick Story, Cody Garbrandt vs Takeya Mizugaki and Neil Magny vs Lorenz Larkin, which are all big fights in their own right.
Let's get into my predictions.  All these picks are using the odds from Bet365.com.

McGregor vs Diaz
In the first fight we saw Conor dominate early before gassing in the second round, which lead to Diaz start connecting with his boxing and eventually tapping Conor after the Irishman looked to take the fight to the ground.
The questions heading into this fight are as follows:
Has Conor improved his endurance so he won't gas early in the fight?
Will Conor employ a more tactical strategy and pick his spots in order to preserve his energy if he doesn't get the KO?
Was Diaz himself preserving energy in the first round, which resulted in Conor getting the better of him in round 1.
Can Diaz be knocked out?
First of all, Conor has had 18 months to improve his endurance.  Listening to interviews from both him and his coach John Kavanaugh, it sounds like this shouldn't be an issue this time around.
Secondly, Conor will definitely have adapted his strategy.  He's said many times that he's going to look to bloody Diaz up with strikes this time rather than going for the KO bombs.  I think this fight is so important for him to just get the W that he will be disciplined and maintain his energy.
As for Diaz not going hard in the first round, if you watch a lot of his losses he's outclassed on the feet, which results in him getting basically beat up for the fight.  He doesn't lose via KO or TKO (only once in his career), he usually wins by bringing his opponent into deep water with his endurance and toughness.
Anyone can be knocked out, but Diaz will likely be able to take the punches.  I think McGregor is the superior fighter and if he's willing to be patient he should be able to win a 5 round decision even if he can't finish Diaz.
Play: Conor McGregor 1.72
Play: McGregor via Decision 7.50
Johnson vs Teixeira
The light heavyweight division is really struggling right now.  With Jon Jones out, Daniel Cormier is by far the top fighter in the division, and I'd argue that Anthony Johnson is easily the second best.
I think he will show that against Glover in this fight.  He's the faster, more powerful and better wrestler in this fight.  Glover is on a 3 fight winning streak via finishes, but he didn't look particularly great in these wins and was actually rocked sometimes.  If he gets rocked by the power of Anthony Johnson his lights will go out.
Play: Anthony Johnson 1.47
Cerrone vs Story
I'm super high on Donald Cerrone.  He looked great in his last fight with Patrick Cote and he doesn't look like he's skipped a beat since moving up to Welterweight.  Cowboy is a ridiculous 11-2 in his last 13 UFC fights, with the only two losses coming to Dos Anjos.  Also, he's never been a guy who has performed in his title shots, so I think in a regular fight without the pressure of a title he's one of the best in the UFC.  It takes something very special to beat Cerrone and although Story is a tough, gritty, solid fighter, I don't see him getting a win over Cowboy.
Play: Donald Cerrone 1.62
Garbrandt vs Mizugaki
I like Garbrandt to win this fight, but I think the hype train may be leaving the station early with this guy.  Mizugaki is no push over and he is a smart fighter who definitely has a shot in this fight.  I think Garbrandt wins this fight more often than not, but this is a dog or pass spot based on the odds.
Play: Takeya Mizugaki 5.00
Magny vs Larkin
Magny simply knows how to win.  The only loss he has in his last 11 fights was against Demian Maia, who is on another level if he's able to employ his jiu jitsu strategy.  That's 10 wins in his last 11 fights against names like Lombard, Gastelum, Silva, Lim, Garcia and Means.  The guy is a winner who finds a way based on his activity and toughness.
Larkin might even be the more technical striker, but my money is on Magny to find a way to win.
Play: Neil Magny 1.72
Also, check out this UFC 202 pick'em contest with $500 in prizes.  It's free to enter and open to everyone.
Tagged With : Conor McGregor • Nate Diaz • UFC 202 picks • UFC 202 predictions • UFC betting • UFC picks • UFC predictions