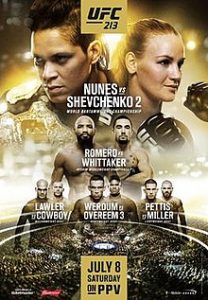 UFC 213 is still 11 days away, but the odds are available for the big fights on the main card.  That includes the headlining fight for the bantamweight women's title between Amanda Nunes and Valentina Shevchenko, the co-main interim middleweight title bout between Yoel Romero and Robert Whittaker, and Donald Cerrone vs Robbie Lawler, as well as Alistair Overeem vs Fabricio Werdum.
UFC 213 is one of the better PPV events the UFC has put on this year and it comes at the conclusion of International Fight Week in Vegas.  This is traditionally a huge weekend for the UFC and although this is a very solid card it's not the massive card that the UFC enjoys putting on during this weekend such as UFC 200 last year or the McGregor fight from two years ago.
All of the odds I'm using below are from Bet365.com, our top rated sportsbook.

Amanda Nunes vs Valentina Shevchenko
These two fought just over a year ago in a title eliminator fight with Nunes dominating the first two rounds before gassing and just surviving the third round against Shevchenko who still seemed fresh.  After that fight Nunes went on to get the title from Miesha Tate and then defend it with a quick KO of Ronda Rousey.  Shevchenko fought and beat top contenders Holly Holm and Julianna Pena to secure her spot in the title fight in this rematch with Nunes.
Nunes is definitely the more dangerous fighter, but I would argue that Shevchenko is the more technical fighter.  Shevchenko also has the 5 round fight with Holly Holm under her belt and she did not fatigue in that fight at all.  Nunes, on the other hand, is known for only having 2 good rounds in her, so if she doesn't finish Shevchenko early I do expect her to tire and for Valentina to take over the fight and start landing on the feet at will.
I also think that Shevchenko had much more difficult fights with Holm and Pena, both very different fighters that Shevchenko was able to top.  Nunes beat the higher profile opponents, but neither Tate or Rousey had the striking to match Nunes on the feet.  Shevchenko, as a former muay thai champion has the ability to stick with Nunes on the feet.  I have to give the edge to Shevchenko simply based on this being a 5 round fight and if Nunes doesn't get an early finish she will be in trouble.
Play: Shevchenko 1.80
Robert Whittaker vs Yoel Romero
Whittaker was able to pick apart Jacare Souza and Derek Brunson on the feet in his last two fights, earning a TKO in both outings against top end competition.  Romero is another wrestler first fighter with dangerous hands, which is very similar to Derek Brunson.  If Whittaker can keep the distance and keep this fight standing he should have the advantage.  He looked clinical in his last two fights and I think he is still underrated even though he has been perfect on the feet.
Romero has been waiting for this title shot after a few big wins, but when you really break it down the wins aren't as impressive as they looked at first glance.  His most recent win over Weidman was a vicious knee to win, but Weidman is now on a 3-0 streak and was also TKO'd with a knee in his most recent fight with Mousasi.  Before Weidman, Romeo pulled out a super tight split decision over Jacare, which most media members though he lost.  Compare that to Whittaker getting the TKO of Jacare while dominating and you can start putting the pieces together that show Romero may be overrated.  Then of course there's the fight with Tim Kennedy where Romero took an extra 15 seconds on the stool between rounds after being saved by the bell.  Overall, even though Romero looks like an absolute beast there are more signs pointing towards Whittaker winning this fight.
Play: Whittaker 1.80
Robbie Lawler vs Donald Cerrone
Both of these guys are coming off of tough losses.  Lawler took a year off to clear his head and rest his body after having the responsibility of being the welterweight champion for quite some time in the UFC.  Cerrone lost a fight to Masvidal, but let's not forget that he had won 4 straight welterweight fights against top competition heading into that fight.
People seem to still underestimate Donald Cerrone even though he wins the vast majority of his fights.  He has all the skills to compete with Robbie on the feet and he is actually the better ground fighter in this battle.
Add in the fact that Cerrone and Lawler are buddies and Cerrone always likes to think him and his opponent are cool because having beef with an opponent makes him uneasy.  We saw it when Matt Brown finally gave in to Cerrone wanting to be cool with him to start the third round of their fight and then Cerrone quickly KO'd him with a head kick.
Play: Cerrone 2.25
Alistair Overeem vs Fabricio Werdum
Overeem is a very talented fighter who simply has too weak a chin for the heavyweight division.  He fights much smarter and more defensively than he did earlier in his career in order to protect his chin and this has resulted in him winning 5 of his last 6 fights in the UFC's heavyweight division.  He keep range very well with kicks and I don't expect him to allow Werdum to get close enough to take him to the ground and use his jiu-jitsu.
Werdum is also a guy who I see as being significantly overrated.  He was the UFC heavyweight champ for one fight, but his win over Cain Velasquez for the title was in Mexico City at altitude and I truly think that Cain wins that fight 9 times out of 10 in normal circumstances.
Overeem is by far the better fighter on the feet in this battle and I do not expect Werdum to be able to get this fight to the mat.
Play: Overeem 1.72
Tagged With : UFC betting • UFC picks • UFC predictions