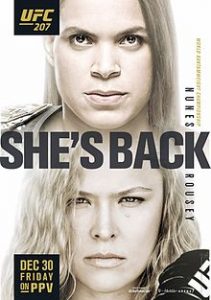 I did a similar post for UFC 205 and my picks were on point a month before the monumental UFC 205 event in New York City.  I hit on McGregor, Joanna, Romero, Edgar and Pennington without missing a pick (I also had Cowboy and Wonderboy, neither of which lost – Cowboy's fight was cancelled and Wonderboy tied Woodley).
The success I had at UFC 205 has lead me to want to make another early picks post for the big fights coming up at UFC 207.  Ronda Rousey is returning to the octagon for UFC 207 and the UFC has stacked the card up for her return, so this card seems to have a similar (but not quite as big) hype as 205.  The event is on December 30th, so these picks are only two weeks in advance, instead of a month, but it's still early.
All of the odds I'm using below are from Bet365.com, our top rated sportsbook.
Rousey vs Nunes
Ronda is in for a very tough fight in her return.  The UFC kept the women's bantamweight division moving in her absence and the champs just kept getting knocked off with Holm losing the belt to Tate and then Tate dropping a quick submission loss to Amanda Nunes, which has lead us to this Rousey vs Nunes battle.  Rousey and the UFC both would have loved Tate to hold on to the belt because this fight with Nunes is far more difficult for Ronda.
Both Ronda and Nunes are known for coming out of the gate and attacking their opponent looking to finish the fight quickly.  Nunes is riding a four fight winning streak with 3 first round wins and a decision victory over Valentina Shevchenko (who beat Holm in her last fight).  This division is now the real deal and I do not expect Rousey to have the same success against the top women she has had in the past.  I actually think that Nunes is the stronger, more dangerous fighter in this tilt.  Rousey will be in a strange position where she's the one who has to survive early and that's not going to be a position she is comfortable in or one that she succeeds in.  Rousey has very poor defense, but has made up for this in the past to take a little bit of damage to throw her opponent and go for a submission.  She won't be able to do this against Nunes.
I think this will be a short fight, but it will be the underdog who keeps the belt and possibly sends Rousey into retirement.
Play: Nunes 2.40
Cruz vs Garbrandt
Grabrandt talked himself into this fight and Cruz was happy to oblige because it's a fight that is perfect for him and it keeps the more legitimate threats (Dillashaw, Lineker, Rivera) from the title shot.  Don't get me wrong, I didn't want Dillashaw getting the title shot right now because I do think you should win a couple fights before getting a rematch, but it is very fortunate for Garbrandt that the division is fairly wide open (thanks to Dillashaw beating other contenders) considering he doesn't even have a win over a top 10 fighter.
Cruz should be able to use his footwork to frustrate Garbrandt and avoid getting hit by the power punch, which is really Garbrandt's only path to victory in this fight.  Cruz and Dillashaw are simply on another level than the other fighters at bantamweight and I expect Cruz to prove it on this card.  I also expect Dillashaw to dispatch Lineker leading to the eventual rematch between the top two dogs at bantamweight.
Play: Cruz 1.45
Werdum vs Velasquez
I expect Cain to win this rematch.  He completely gassed in Mexico City in his loss to Werdum and I don't expect him to have that issue in Vegas.  He should be able to bully Werdum and work towards a ground and pound victory.
Werdum did not look great in his last fight with Travis Browne, while Cain went in there and absolutely manhandled Brown en route to a first round TKO.  Cain is still arguably the baddest man on the planet and a win here should set up a tilt with Stipe Miocic, which would be an amazing fight.
Play: Velesquez 1.47
Those are the only three fights with the odds currently available.  I'll check back in a couple weeks to see if I did as well with these early picks as I did for UFC 205.
Tagged With : UFC 207 • UFC betting • UFC picks